Dezeen
New York | Paul Jebara | Published July 22, 2019
New York firm BG Studio International has included a host of environmentally friendly features in this cruise ship designed to sail the Galápagos Islands. BG Studio founder Francesca Bucci designed the Celebrity Flora project for Celebrity Cruises. It is the first-ever cruise ship custom-built for the Galápagos Islands.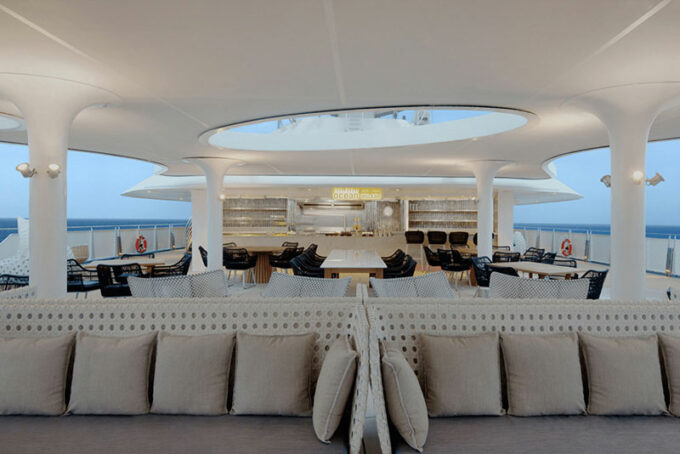 Since nothing could be directly sourced from the protected island chain, the team referenced textures and silhouettes of diverse fauna, colours of the endemic flora, and the unique volcanic geology.

"Everything is inspired by the Galápagos," said Bucci. "My favourite architectural aspect is the interior stairs, which we designed after studying the spine of the islands' reptiles."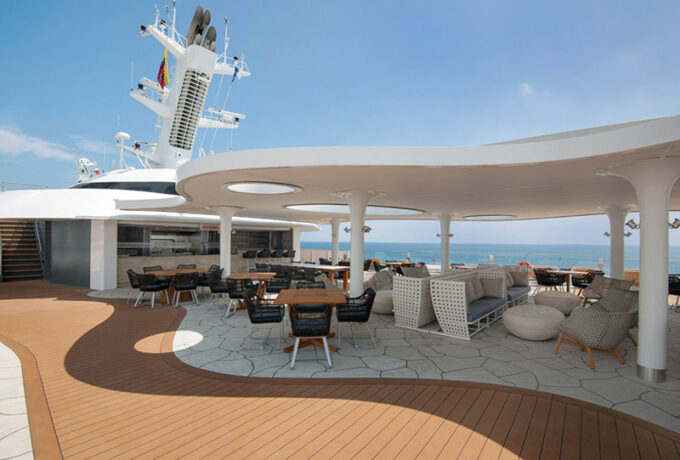 This stylised portion of the stairs extends from the ceiling like scooped slivers of wood, navigating to the guest cabins along two storeys. "We fought tooth and nail for this style, which would typically be a 'no-no' on a ship for various reasons," she said.

Measuring 10,000 square metres, Celebrity Flora comprises 46 suites, two royal suites with separate living quarters and private veranda, and two penthouse suites with floor-to-ceiling windows, statuary marble accents, and a wrap-around terrace with a jacuzzi.

All rooms were designed to make the most of the exterior views, including sea-facing beds accompanied by locally-manufactured furniture.

As the smallest vessel in Celebrity Cruises' fleet, 100-metre-long Celebrity Flora was engineered with state-of-the-art technology to minimise its footprint as it cruises the archipelago. Bucci describes it as "a union of sustainability and simplicity".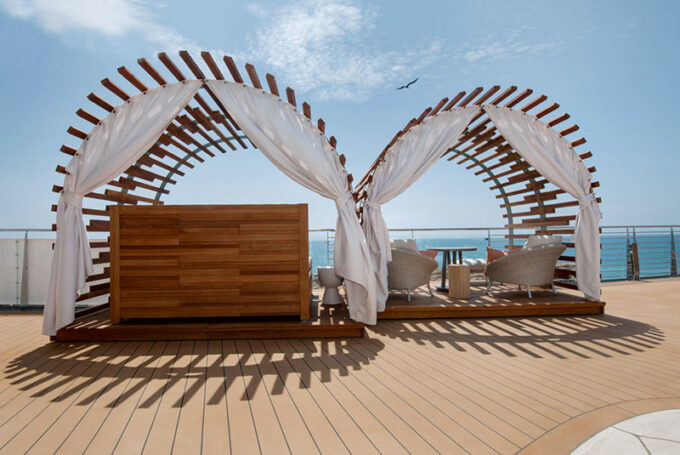 Such innovations include anchorless dynamic positioning to preserve seabeds, a unique hull configuration and advanced propulsion system to reduce fuel consumption by 15 per cent, and custom-designed diesel engines that ensure fewer air emissions.

To eliminate the need for plastic water bottles on board, the ship boasts reverse osmosis water filtration for potable water in every room. Air conditioning condensation is collected and reused towards laundry facilities, and the ship employs an advanced wastewater treatment system that meets the standards of major cities.

The same caliber of eco-friendliness is reflected in BG Studio's design of the exterior decks, 50 cabins, and interior public spaces.

"We learned tremendous amounts during our intense preparation for designing this ship, specifically knowing what it would mean to be built from scratch for the Galápagos," Bucci told Dezeen.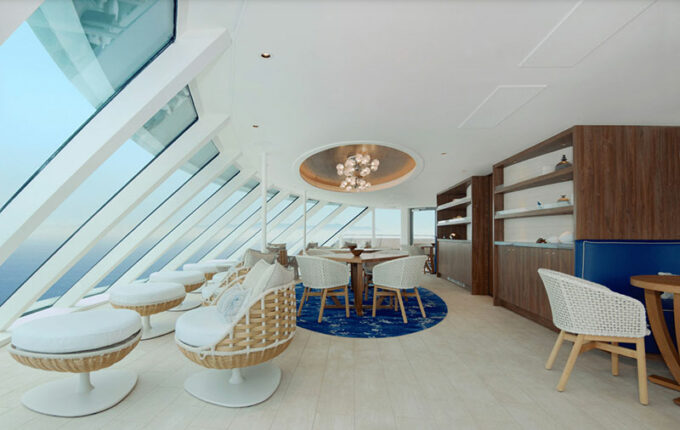 Citing studies on the impact of light in fragile ecosystems, Bucci's team carefully selected lighting that would minimise attraction from insects while the ship travels past dusk.

This is intended to prevent disruption to island habitats through the migration of species from one area to another.

Punctured metal fixtures would help mellow lighting on-deck, while all-LED bulbs were chosen for the interiors to regulate temperature.

The top-level Vista deck features a curvilinear canopy that provides shade to diners at the ship's Ocean Grill, with custom-produced flooring by Bolidt, a company who provides synthetic alternatives to prohibitively heavy stone material.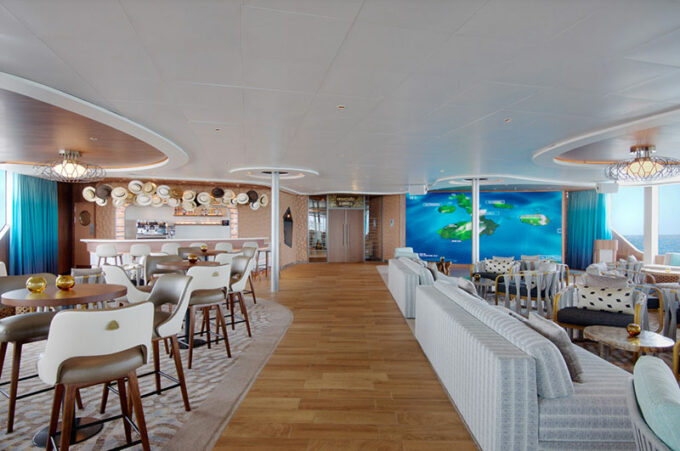 "Together we developed a template, which was then poured, delicately scored one-by-one, and filled with grout," Bucci describes. The resulting pattern resembles the shell of a Galápagos tortoise.

Celebrity Flora forms part of a fleet run by cruise line Celebrity Cruises. The company also recently unveiled the Celebrity Edge ship, with suites created by British interior designer Kelly Hoppen.

Photography is by Karen Fuchs.