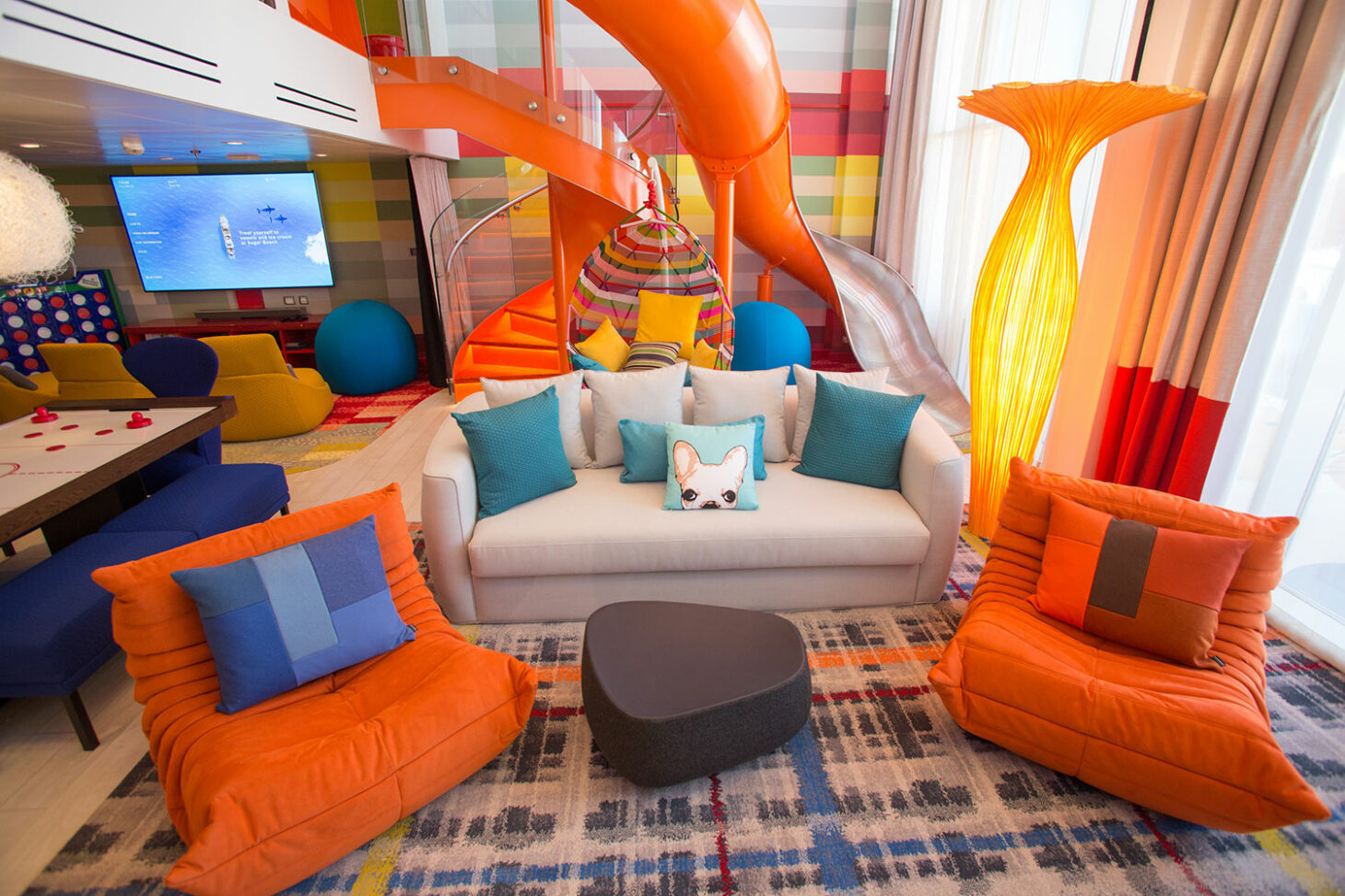 Hotel & Hospitality Interior Design | International Suites
Symphony UFS
The guiding principle was to have a suite that would make every child's dream come true, promote interaction among family members but also explore activities alone. The inspiration came from one particular cartoon book, "Il gioco delle favole" (The fable play). The flip book, with removable parts, allows one to create and imagine all different scenarios inspiring the concept of: Transformative Play. Like the cartoon book, "Il gioco delle favole" (The fable play), The Ultimate Family Suite draws you in thru the Red door entry, opening into a Red Foyer where then, the entire double story volume and its features unfold.

Spanning nearly 1,350 square feet with 212 square feet wrapped around the balcony, the Ultimate Family Suite is two stories of excitement on every level. The suite has two bedrooms, accommodates a family of up to eight people and comes with its own butler, known as the "Genie". Everything in the suite is designed with kids in mind and features a kid's only bedroom with access to a 15 feet long slide that connects to the living room, a "secret passage" to the master bedroom, and a private kids-only bathroom brightened by a colorful pop-art inspired wall tiles.

Adding to the fun, the living room has a floor-to-ceiling LEGO wall, an air-hockey table, and a 3D movie theater with custom reclining lounge chairs, popcorn machine, and soda fountain. The artwork is organically integrated in the suite through a custom designed double story mural, composed of carefully chosen gradation of color blocs; multi-colored, kite-shaped light fixtures hanging from the ceiling of the double story living room complement the soft and ultra-comfortable furniture.

Launch of Symphony of the Seas, Royal Caribbean International's newest and largest ship. Ultimate Family Suite.