Cruise & Ferry Interiors
New York
Celebrity Forms Three Partnerships Ahead of Celebrity Flora Launch
Celebrity Cruises has embarked upon three new partnerships ahead of new ship Celebrity Flora's launch in the Galapagos Islands on 30 June. The collaboration aims to enhance the line's commitment to stewardship of the environmentally sensitive location.

Celebrity has chosen Yolanda Kakabadse, the former Minister of Environment for the Republic of Ecuador and former president of the International Union for Conservation of Nature and World Wildlife Fund International, to be the godmother of Celebrity Flora.

"The Galapagos Islands are an ecological treasure and I am excited to showcase its one-of-a-kind biodiversity through Flora," said Kakabadse. "I am proud to partner with a company that is committed to sustainability in the Galapagos and showing leadership on an issue critical to sustain this beautiful ecosystem, food waste."

As part of its efforts to highlight sustainability and the importance of the natural environment, Celebrity Cruises is also building on its 20-year partnership with the University of Miami's Rosenstiel School of Marine and Atmospheric Science. The cruise line will install oceanographic research equipment, known as Oceanscope, on Celebrity Flora to provide the school with a cost-effective way to gather and measure ocean circulation dynamics. This data will then be made accessible for researchers worldwide.

"Celebrity Flora's repeated circumnavigations of the Galapagos Archipelago will not only yield data essential to understanding the physical system that has created and maintains the unique Galapagos ecosystem, but will also be an invaluable contribution to our understanding of the effects of global weather and climate upon eastern equatorial Pacific circulation and regional ocean acidification," said Peter Ortner, research professor at the Rosenstiel School of Marine and Atmospheric Science.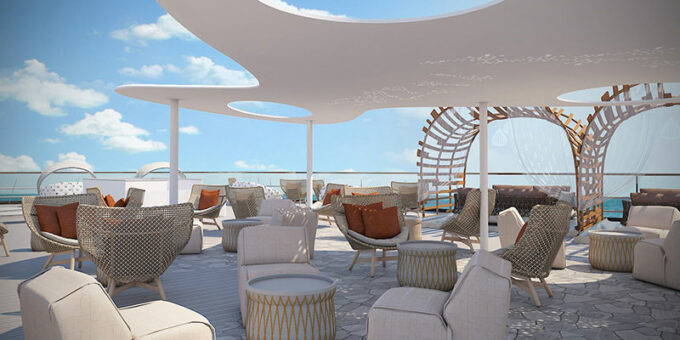 To echo the natural environment of the Galapagos Islands inside the ship, Celebrity has partnered with Ecuadorian interior and furniture designer Adriana Hoyos. She uses her heritage and travels to highlight sustainable materials when crafting her collections. Her furniture will be found throughout the ship in the Discovery Lounge, Penthouse Suites and the Marina.

"The Galapagos have always been a great inspiration for my work," said Hoyos. "Each island has different elements like the sand, the volcanic ashes, the leaves and all of those textures put together have a place in my furniture. That is why we chose selected pieces to complement the ship's design with local elements that will connect organically to the design of the cruise. The ship is unique and Galapagos is a unique place as well."
Hoyos's furniture was specified by BG Studio International, which was responsible for designing all the interiors for the the 100-guest Celebrity Flora.

"Celebrity Flora is one-of-a-kind – truly a mega luxury yacht with an explorer life force," said Francesca Bucci, president of BG Studio International. "In particular the two Penthouse Suites at the aft of the ship are a bespoke and spectacular experience. They are the largest Suites in the Galapagos, both fully glass enclosed and cantilevered one above the other in a 'yin and yang' fashion. Embraced by warm woods and stunning statuary marble, staying in the Penthouse suite gives one the sense of being totally immersed in the environment while relaxing in a beautiful and exclusive private residence at sea."

Celebrity Flora will make the first of many year-round sailings on 30 June 2019 from Baltra, Ecuador.

"We are thrilled to unveil these one-of-a-kind partnerships, which help underscore our passion for protecting this beautiful archipelago," said Lisa Lutoff-Perlo, president and CEO of Celebrity Cruises. "Each of these new partners are helping shape a better tomorrow for our planet in one way or another – whether it's through the research, sustainable material sourcing or conservation – and we couldn't be prouder to be a part of this sea change. These new partnerships are accentuating the already incredible work we've done with our other partners, including the amazing Francesca Bucci of BG Studio International, a New York City hospitality design firm – who designed every aspect of this stunning new ship – and the world-renowned marine scientist and regional destination expert Ellen Prager who crafted new and exciting science- and discovery-based programming exclusive to Celebrity Flora."

By: Elly Yates-Roberts

Go To Website