BG Studio International is a boutique hospitality design firm specializing in large-scale hospitality and multifamily projects.
The firm was created in 2002, out of a desire to incorporate diverse cultural influences with the best practices of design and construction from across the globe.
Based in New York City, the firm designs and manages luxury hospitality projects throughout North America and Europe. The firm's international background and education shape the design approach while the competitive edge comes from the broad design innovative mindset. BG Studio's projects are praised for their strong architectural details, clever layering of classical and modern styles, the flow of the spaces and their sense of whimsy.
Award winning BG Studio International has been recognized in the Top 80 Hotel Design Firms in Lodging Hospitality and ranked no. 72 in Hospitality Giants in Interior Design Magazine. The firm's work has been published in prestigious design magazines such as New York Times Magazine, Hospitality Design, World Cruises, Multi-Housing Magazine, Haute Living Design, Perspectives Magazine and Boutique Design.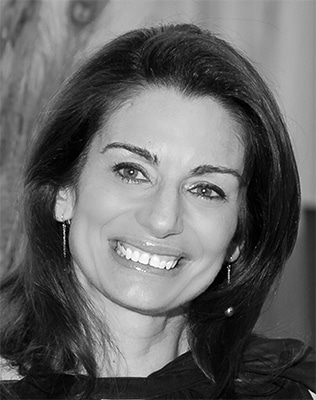 FRANCESCA BUCCI,

AIA ASSOC., SBID HON
PRESIDENT
A native of Italy, Francesca is an architect who has lived and worked in Rome, Italy; New York, New York; Washington, D.C. and Paris, France. Her broad international experience inspires her Hospitality portfolio and made her develop a complete understanding of how design and construction disciplines work in other parts of the world. Fluent in Italian, French, and English, Francesca is a skilled communicator and a powerful source of ideas. Her knowledge of global architectural and design practices, her talent for diplomacy, and her ability to build collaboration and inspire Clients are invaluable assets on every project. Previously Francesca worked at Peter Marino, Perkins and Will, Polshek and Partners and Birch Coffey Design.
PROFESSIONAL AFFILIATIONS
American Institute of Architects
Professional Women in Construction
Society of British Interior Design
Commercial Real Estate Women (CREW)
PUBLICATIONS
Hospitality Design Magazine
Cruse and Ferry Interiors
Crain's Magazine
Haute Living Magazine
Perspective New York
MICHAEL LEBLANC
SENIOR VICE PRESIDENT OF OPERATIONS
Michael brings a wealth of technical knowledge and architectural/interior design experience to BG Studio. He manages complex projects, leads his design team and represents the sole understanding of BG Studio to respected clients. With 30 years of design experience, Michael has an extensive background in architecture and an intimate knowledge of interior design details in hospitality, retail, commercial and residential projects. A Boston native, Michael has worked with a host of New York and New Jersey architectural/interior design firms such as SOSH Architects and Norwood Oliver Design Associates. He has worked on projects such as casinos, hotels, restaurants, bars, public areas, schools and municipal buildings around the world. Michael is currently presiding over an array of projects for BG Studio, working closely with clients such as Royal Caribbean International, Celebrity Cruises and Azamara Cruises. Also a series of land based projects with UDR, Roseland Properties, and Haikimian Group.
PROFESSIONAL AFFILIATIONS
American Institute of Architects
International Interior Design Association
PUBLICATIONS
Architectural Records
Hospitality Design Magazine